Life's a Beach – Cleethorpes
Unlocking children's imaginations, inspiring creativity and connecting kids to nature
Families loved our programme of #birdhouseexplorers activities over half-term, offering a chance to explore the outdoors, connect more to Cleethorpes, learn about wildlife and get creative!
Enjoy our Life's a Beach videos below, learn as a family about the wildlife in Cleethorpes, then children can get creative with the help of our craft tutorials, with more to be added.
There's also still time for children to gain their own Arts Award (more info further down)!
Life's a Beach – Cleethorpes
Find out what gets left on the strand line at Anthonys Bank in Cleethorpes, and all about the different kinds of shells you can find.
DOWNLOAD HUMBER FORTS GUIDE
Make a gull mask
Be a gull for the day and have fun making a Gull Mask using the mask, beak and feather templates provided
DOWNLOAD ACTIVITY PACK
Make a nature book
Discover the different techniques that can be used to document natural finds that are found along the strandline, including shells and seaweeds. Draw, take photographs or make rubbings for your very own Nature Book.
DOWNLOAD ACTIVITY PACK

ARTS AWARD
Help your child gain their very own Arts Award!
How exciting – your child can gain their very own 'Arts Award' by taking part in Life's a Beach activity!
Arts Award is a set of awards for children and young people aged 25 and under that gets them involved in and excited about arts and culture and celebrates their creative achievements.
Arts Award Discover is the introductory level and 'Discover at Home' is a special version of this created for the times we are currently living in.
Arts Award aims to improve confidence and communication skills including literacy, as well as developing arts skills. Arts Award Discover is a foundation to introduce children to the world of the arts and culture and is a springboard to other levels of Arts Award (Explore, Bronze, Silver and Gold), which are recognised qualifications.
To gain their Discover Arts Award, children need to:
Get to know the work of an artist (of any kind) or arts organisation
Take part in activity and show evidence of doing this
Share what they have done and learned, for example with family and friends and again demonstrate how they've done this
Everything can be recorded in a special Birdhouse Discover at Home log book. You'll then need to send this in to us and we'll organise a certificate to be sent from Trinity College, London! (Log books will be returned with your certificate).
FIND OUT MORE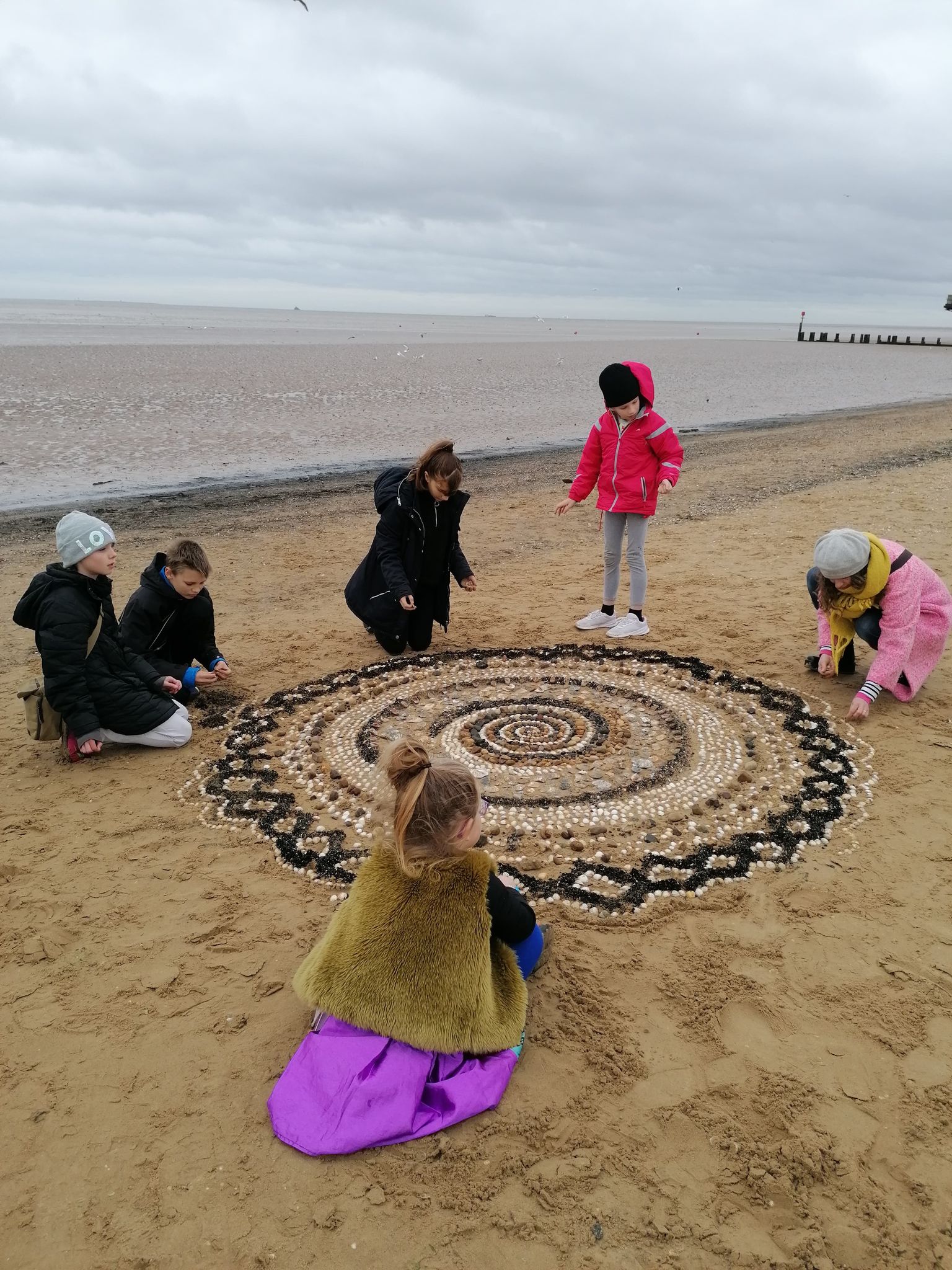 Artist James Brunt created beautiful beach art with the help of Cleethorpes families over half term
Life's a Beach – Cleethorpes, combines a series of activities that positively engage children through both digital and real world activity.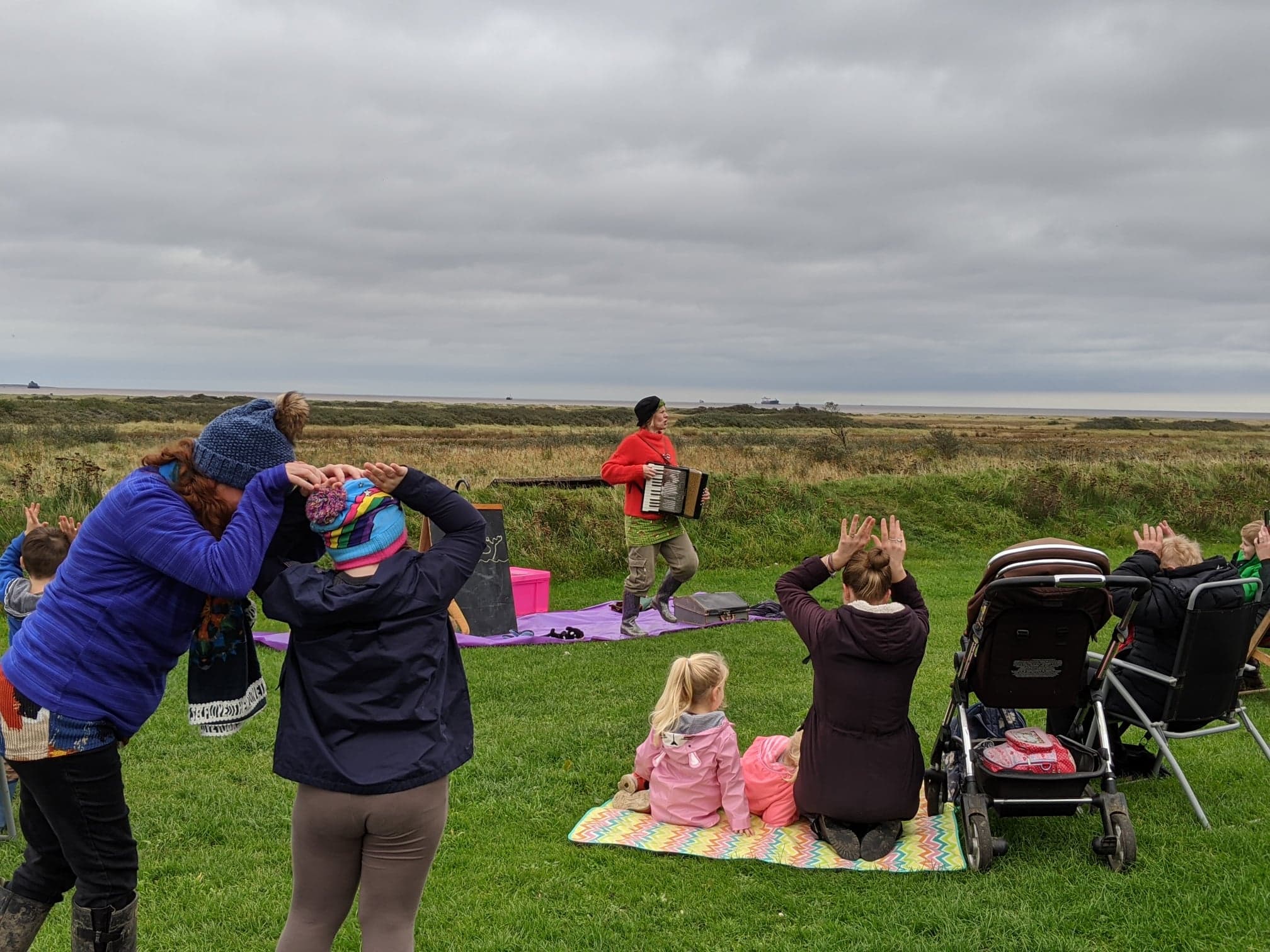 Kirsty from Rhubarb Theatre engaged children and parents in interactive story-telling
"What a totally gorgeous experience. Great for the whole family. Thank you!"
Saturday 24 October
Take part in beach art
Artist James Brunt will be our Artist in Residence for the day! He's coming to Cleethorpes to create some amazing beach art. Come along and see his work, add to it or create your own throughout the week!
James loves the coast and creates intricate patterns from natural materials found on the ground and says there is something special about being by the sea – we totally agree!
NOW FRIDAY 30 October
Snail and the Whale story-telling in the sand-dunes
Join our lovely story-teller Kirsty among the sand-dunes in these Covid-safe story-bubble sessions, as she tells engaging story of the Snail and the Whale.
Three Covid-secure sessions – spaces limited
10.30am, 11.30am and 1.30pm
Meeting point – BEACH HUTS, Cleethorpes. Suitable for ages 3 – 8. £4 per adult or child, lasts approx. 30mins. Children must be accompanied by an adult.
BOOK HERE

Wednesday 28 October
Be a modern day historian!
Help record Cleethorpes' history! This is your chance to learn how to record historical findings – learn from our expert Dr Sam Griffith how to record any historical findings you might spot while you're out and about along the promenade. These sessions will teach you how to use the Coastal and Intertidal Zone Archaeology Network's new APP, either on your own device(s) or using one of our dedicated tablets.
In 45 minutes, Dr Griffith will guide you through the details and then leave you to have a try in your own time (we'll even provide feedback afterwards on how you've done and connect you to more ways to learn about our coastal history). The app is designed to be used by all and family bubbles in the sessions are encouraged!
You can download the CITiZAN Coastal Archaeology Survey app, for Android or Apple, to your phone in advance although this is not essential.
Find out more about CITIZAN at www.citizan.org.uk
Meet outside Cleethorpes Leisure Centre. Covid-secure event, limited participants with social distancing in place. Aged 8+ must be accompanied by an adult. Free but booking essential.
BOOK HERE

Thursday 29 October
Family Archaeology Adventure
Come and join Dr Sam Griffith of the Coastal and Intertidal Zone Archaeological Network on Fitties Beach for a foreshore ramble to discover its archaeological heritage.
The Fitties is a constantly changing landscape so you never know what you're going to find: from prehistoric trackways to shipwrecks. Also, find out about the prehistory of Cleethorpes and its influence on 20th century tourism.
This discovery walk will take approximately 2 hours with plenty of chance for questions! Wellies are essential to access any of the muddy areas and you'll need to bring your own water, hand sanitizer and wear/carry appropriate clothing for the weather on the day. We advise using toilet facilities before arrival as no facilities are available nearby.
You can download the CITiZAN Coastal Archaeology Survey app, for Android or Apple, to your phone in advance although this is not essential.
Find out more about CITIZAN at www.citizan.org.uk
Meet at Fitties car park (next to Humber Yacht Club). Covid-secure event, limited participants with social distancing in place. Aged 8+ must be accompanied by an adult. £6 per adult or child.
BOOK HERE
Life's a Beach aims to provide opportunities for quality family time while promoting a deeper connection to this much-loved resort and supporting local businesses, through a varied programme that includes:
Free access to digital content produced by Lincolnshire Outdoor Learning highlighting Cleethorpes' wildlife, accompanied by creative making tutorials by artist Kathleen Smith 
A 'Covid-safe' beach ramble led by Dr Sam Griffith of the Coastal and Intertidal Zone Archaeological Network, allowing children and families to discover Cleethorpes' archaeological heritage, with a chance to spot a number of known ship-wrecks
The opportunity to contribute to an evolving beach-based work of public art, started by artist James Brunt 
Outdoor family bubble story-telling sessions of 'The Snail and the Whale' among the sand-dunes, by Rhubarb Theatre
The chance for children aged 5+ to gain the Arts Council England-backed Arts Award, through participating in Life's a Beach activity and logging their experience
Life's a Beach also forms part of a national initiative called Back & Fill – a one-off series of locally organised festivals, 'inspired by the currents of seaside life'.
Back & Fill is a sailing term, for using the advantage of the tide being with you when the wind is not and activity is happening at range of coastal locations across the UK from Cleethorpes to Northern Ireland. The initiative has been purposely coordinated to happen at the end of a tough summer season with local projects supporting artists, independent shops and seaside tourism businesses.
Charlotte Bowen, creative director for Birdhouse, said: "We aim to provide engaging opportunities for families and to inspire children's creativity. Cleethorpes is well-loved and has so much to offer on top of being a traditional seaside resort.
"Through Life's a Beach, we're drawing attention to its natural qualities, while providing creative outdoor and at-home activities that ultimately help deepen children's connection to their local area and the world around them.
Charlotte continues: "We're fully on-board with championing Cleethorpes and its merits, while allowing residents and visitors to see the town in a different light while connecting to nature."
Life's a Beach – Anderby Creek, Skegness & Seacroft Site of Special Scientific Interest
Life's a Beach began life in 2020, when we were commissioned by the SOFestival to create work for the people of East Lindsey to enjoy and experience.
This presented a fantastic opportunity for us to help children and families explore the Lincolnshire coastline and learn more about its wildlife and natural habitats.
The series of short videos below were shot on location in Anderby Creek, Skegness and Seacroft SSSI and provide an introduction to the variety of wildlife that make these wonderful locations their home.
Led by Lincolnshire Outdoor Learning, the videos feature outdoors educator Ashley Butterfield as he takes viewers on a journey along the sand-dunes and beaches, making it easy for viewers to follow in his foot-steps when on their own family trip.
Lincolnshire-based artist Kathleen Smith has also created a series of four making and crafting video tutorials, which will support children to make creations at home like gull masks, bird sculptures and hanging decorations, out of found materials.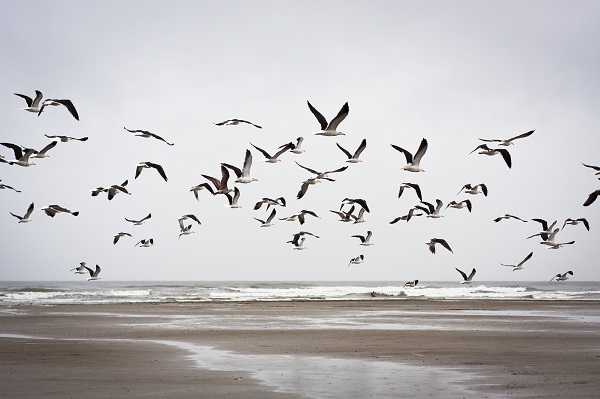 Charlotte Bowen, creative director for Birdhouse, said:
"We were delighted to participate in the SOfa Festival this year, an on-line version of the SO Festival which is an international festival usually hosted in Skegness and Mablethorpe.
"We decided as a family organisation to offer an educational but fun activity for families and children, helping them to get know their surroundings better, while introducing them to the wildlife and habitats along the coast.
"This particular stretch of coast is internationally significant and our videos aim to help children learn more and understand why.
Charlotte continued: "both Anderby Creek and Skegness are popular visitor destinations and as a result of the pandemic, more people are exploring outdoors, getting 'back to nature' and enjoying fresh air and walks.
"With that in mind we feel this is very much a well-being as well as wildlife project, which while highlighting our lovely coast, also gently touches upon environmental concerns and promotes responsible living.
This series was commissioned by SOfa Fest 2020, part of SO Festival which is supported by Arts Council England, East Lindsey District Council, Passage Festival, Helsingør Teater, and Without Walls.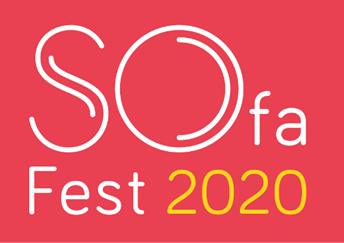 Life's a Beach at Anderby Creek
Find out what gets left on the strandline at Anderby Creek, to record in your nature book and look out for Sanderlings which are found here.
Make a paper mache Sanderling bird
Learn how to make a paper mache Sanderling bird, which is found at Anderby Creek. The finished bird can then be displayed on driftwood found at the beach, so make sure to look out for some along with the birds on your next visit.
DOWNLOAD ACTIVITY PACK
Life's a Beach at Skegness Beach
There is more to Skegness beach than meets the eye – what can you find to record in your nature book and how many birds can you identify?
Life's a Beach at at Seacroft SSSI
Find out what is so special about this Site of Special Scientific Interest.
Swedish salt dough bird decoration
How to make a salt dough bird, plus how to create a Scandinavian pattern by creating your own stamps and how to paint and seal the finished work.
DOWNLOAD ACTIVITY PACK